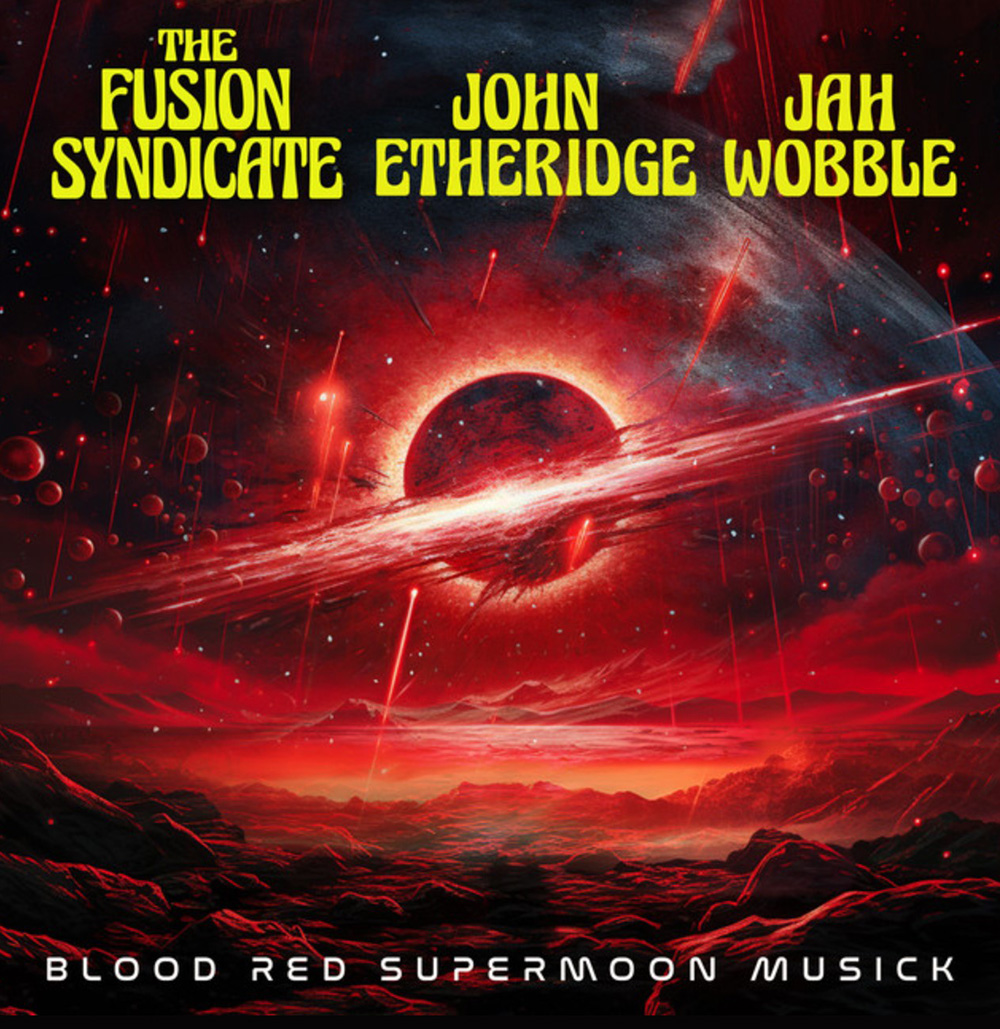 24 Oct
A new single by The Fusion Syndicate, Jah Wobble and John Etheridge came up on my Spotify list. Blood Red Supermoon Musick

I'm on my third listen. Great spacey fusion prog track. Wonderful guitar work from John Etheridge half way through. I'm really not sure what he's doing but can see why Pat Metheny called him one of the best guitarists in the world. Great cover for the single too.

A great honour obvs to have John play on three tracks on my new album.
5 June 2023
Thanks to Darren Johnson for the interview about my new album.  You can read it here 
22 March 2023
The Pixies hardly need more plaudits from anyone, but anyway one more. I bought a ticket last minute on Monday for Monday night's show down the road at The Roundhouse in Chalk Farm, one of my favourite venues. I was in France around 1990 when I heard Doolittle for the first time and was blown away - such a strange sound, so savage and pretty at the same time. They played a new track on Monday Thunder and Lightning that I have had more or less on repeat since.  A lovely strummed folk song around a theatrical creeping bass line that could have come from The Munsters. Who'd've thought of it. I looked at the merchandise stand and told myself I didn't need anything but still managed to leave with the poster. The Pixies still got it. A very potent brew.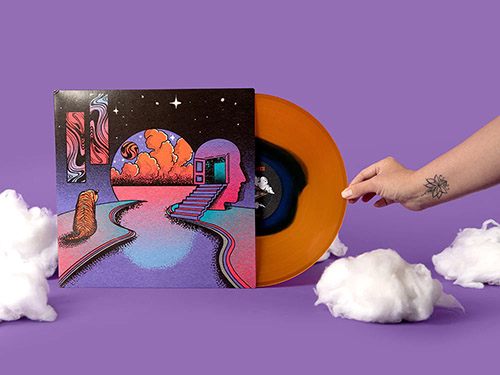 15 Nov 2022
Over the moon to receive a copy of Vinyl Moon Vol. 085 this morning from the courier and wonderful to see "Give Me Your Horse" is the opening track. What a great idea in an age of digital ephemera. Reminds me of my days trawling through stacks of vinyl at the Tape & Record Exchange in Camden Town. Vinyl Moon is a vinyl "mixtape" of rare sounds every month with stunning visual artwork from guest artists. The current vinyl is designed by Jared Sylvia  "with bold colors, psychedelic imagery, and inventive use of textures, Jared Sylvia's style is a perfect fit for album art .. he's previously worked with musical behemoths such as the Smashing Pumpkins, Guns N Roses, and The National". Many thanks to Brandon and Vinyl Moon!
26 October 2022
Recorded most of the new album. As usual, some tracks were very quick and easy and some are like pulling teeth. One in particular is a wisdom tooth. I suspect the ones that will do the best will be the ones we recorded in three and a half minutes.

Aiming to release a single in December on a limited run CD with some well cool artwork. 
 
Update: I released the single Elvis Has Left The Building (Super Deluxe Version) with cover artwork by Anthony Macbain
29 May 2022
Working on a new album ...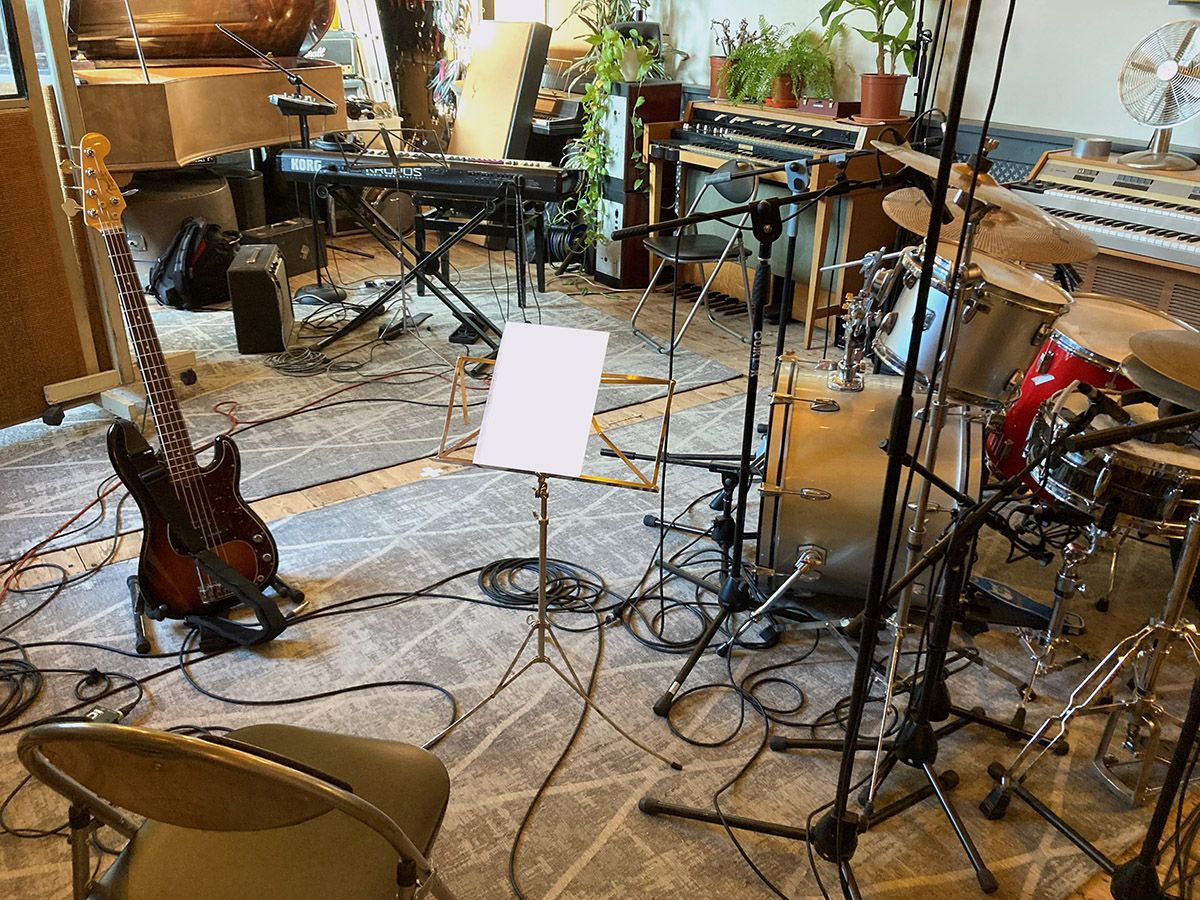 Broken nail before recording aargh.  quite pleased with my emergency sellotape nail technique tho' below, patent pending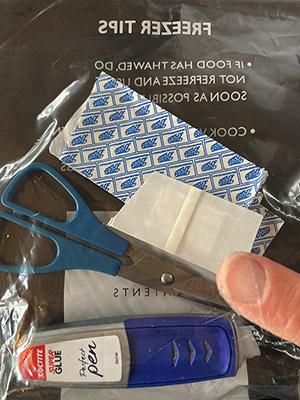 10 Dec 2021
Another find under Spotify's  "Your Listeners Also Listen To" section.  Hard not to love "The Tracks'" exuberance, ringing guitars, uplifting melodies. Reminds me of why you'd want to be in a band in the first place. Two versions of "You can't Judge A Book By the Cover"  - the Spanish version is great
An interesting thing about Spotify
Spotify royalties may not be great, but the "Listeners Also Listen To" section is fascinating. Some of my listeners listen to the French avant pop group Stereolab, who I discovered here. I really like Lo Boob Oscillator. I also discovered a stunningly beautiful track by John Martyn here which I'd somehow missed, Spencer The Rover. Wherever he played that, surely you would have heard a pin drop.
Cool Track, 15 April
I really rate this track. Paul Cook & The Chronicles, "Old Pursuit". Beatlesque in its tunefulness, hip like the Yardbirds. Deft - all said in under 2 minutes 30 seconds.

Eeyore of course,  Feb 6th
Mendelssohn's  A Midsummer Night's Dream is on in the background on the radio. Just got the donkey reference for the first time, surprised I ever missed it, really jumps out at you. Interesting analysis of the motifs at http://mendelssohnincidentalmusic.weebly.com/the-overture.html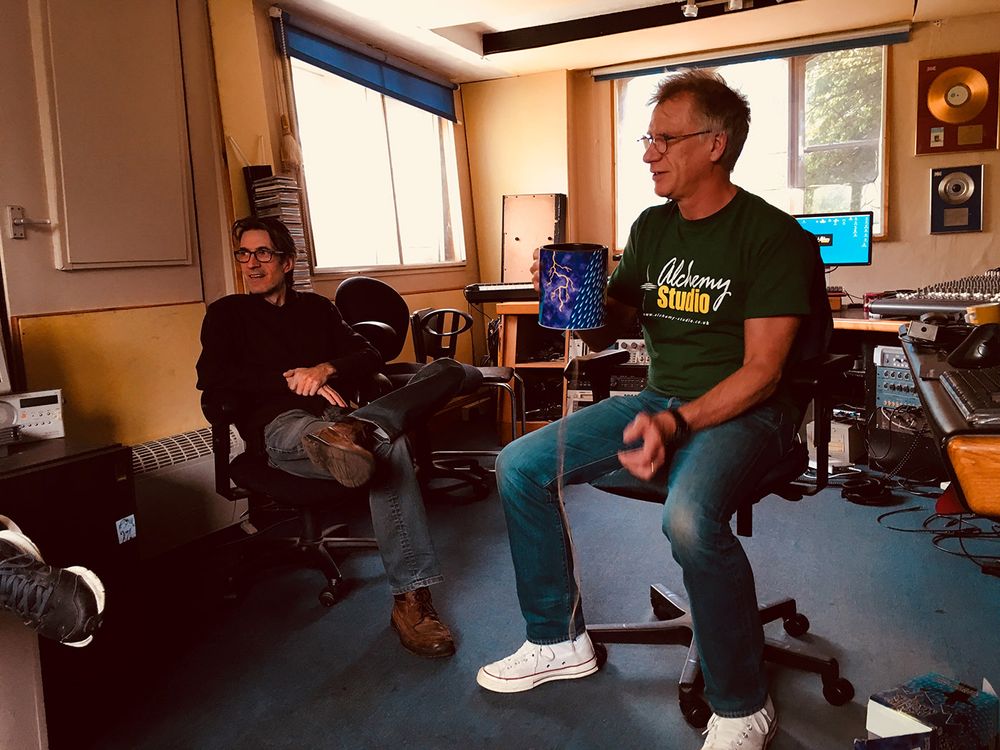 The god of thunder,  Jan 26th
I came across this pic of engineer Kenny Jones and drummer Marc Parnell with this interesting contraption. People often ask me, about once a day on average, "What's that sound at the very end of Jonah Part 1 on your album?". I say "The thing that sounds like a weather bell, ringing through the fog?". "No, the other one", they say, "like peals of thunder". Ah well it is the thunder machine pictured here.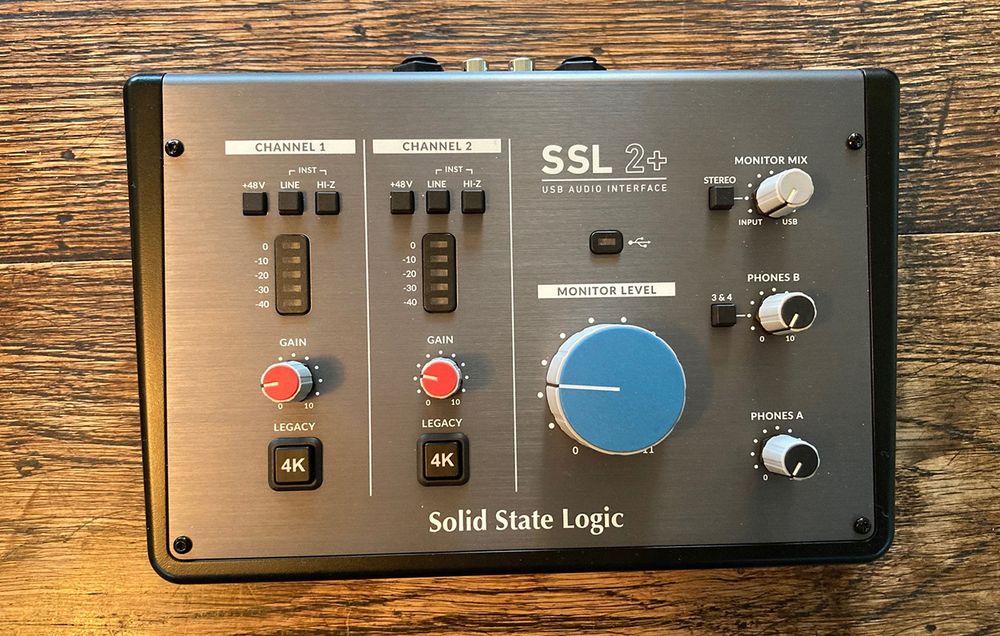 SSL beauty,  Jan 5th 
So my music computer gave up the ghost and I had to upgrade some gear. My reaction to this Solid State Logic Audio Interface was visceral; I had to have it. I disregarded any minor issues in the audio reviews, hoping nothing major would turn up.  I looked at about thirty different Interfaces and there are definitely some sleeker and higher spec ones. But some designs are too sleek, so simplified they become fussy and complicated again. Give me a dial or two, well spaced out, and in blue and red too.  Also, I often find that if someone can be bothered to design something that looks really good, it will probably be really good too. Let us see
.................................
Vox Rea,  Jan 10th 
Stumbled across a fantastic song and video by a band called Vox Rea, "Dose Me Up". Class. I beseech you to check it out 
..................................
Full of Eastern Promise,  1 Dec 2020  
Do facemasks slightly improve the overall attractiveness of Londoners ... Even the casual shopper in Budgens seems to be full of Eastern Promise.  
.........................

Couperin on the Radio,  7 April 2020  
Some pieces of music are like a time capsule, passed perfectly through time. Listening to Couperin's Les Barricades Mystérieuses on radio. Could the listener in 1717 have felt any differently to the listener in 2020.  
.........................
STAY TUNED FOR "The Tale of Roland Gift and the nine tracks on my iPhone" ...  
...................................
Trying out guitars,  Feb 5th 2020
I was browsing in a guitar shop on Denmark Street a few years ago, when an American came in and asked for an American Strat.  The seller lifted one down from the wall and passed it over. The American  said "OK, you can bag it up".  
"What, don't you want to try it?"  
"Nope"  
I was always massively impressed by that guy. 
I recalled him whilst I was frigging around for hours at the weekend trying different Martin Dreadnoughts. I'd tried too many and was now lost in sound. Brighter, treblier, duller, bassier. I tried double backed guitars and treble backed guitars, newer strings, older strings. One, crucially, was lighter, it was better to hold. I had a 1970s Gibson Explorer once hewn out of an oak tree, which weighed a tonne and gave me massive neck ache. My mate liked playing it luckily, and I used to play my green Ibanez Roadstar. I settled on the brighter, lighter, older Martin D 28. I'd overthought it. Of course there was no real objective. Bassier, treblier compared to what? It's all pretty relative. Maybe I'll try that guy's approach next time.